MIL - Lisbon International Music Network 2020
CAIS DO SODRÉ, LISBOA.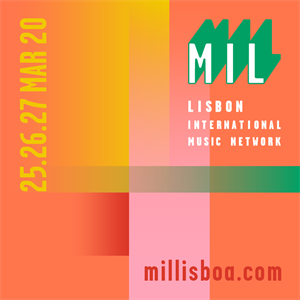 Alguns ou todos os itens deste evento requerem que utilizador Insira um código promocional
Insira as suas informações abaixo para comprar bilhetes.
MIL - Lisbon International Music Network is back to Lisbon in 2020 for its fourth edition on March 25, 26 and 27. The festival counts with +70 concerts and dozens of talks, conferences and masterclasses. MIL's programme introduces a handful of fresh news acts coming from all around the globe, with a focus on the current music production from the Portuguese-speaking countries, whose inspiring features and diversity reaches the four corners of the world, while presenting a wide showcase of the talents of tomorrow's music from Europe, America or Asia. Adding to this exciting journey, for 3 days MIL brings together music and creative industries professionals from all over the world in a wide variety of networking and training opportunities focused on the music industry and the cultural sector.
Este evento é somente para maiores de 16 anos. Nenhum reembolso será concedido para menores de 16 anos.
Mais informações sobre MIL - Lisbon International Music Network 2020
MIL has three types of tickets:
PRO TICKET (access to conference, concerts and professional database)
FESTIVAL TICKET (access to concerts on March 26th and 27th)
GOLD FESTIVAL TICKET (access to opening show on March 25th, concerts on March 26th and 27th + MIL 2020 Totebag)

PROMOTOR: CTL - Cultural Trend Lisbon